Permalink
A fishing tackle room is a shed or room where a fisherman safely stores his fishing gear and accessories.
Whether you are a seasoned professional or an amateur angler, your collection of fishing poles, bait boxes, waterproofs, seat boxes, landing nets and holdall bags should be stored in this secure room for fishing gear.
The gear is normally mounted or hanged on the wall while other equipment can be placed in/or on shelves.
How big should it be?
The fishing tackle storage room should be long and wide enough for tall fishing poles; at the very least it should be over 6ft tall and around 4ft wide. It should also be spacious enough to store your fishing tackle boxes.
Personality
You can customize your room for fishing gear to reflect your personality by injecting some style and decorations on the wall. Some seasoned fishermen even use the fishing tackle storage room for artistic purposes, collecting and displaying only the best and most cherished fishing gear in the market.
For easier organization, keep everything separate by making one huge wall for your hardbaits/plastics/hooks/jigs. This will help you know exactly what you have as well as what you use or don't use.
It is important to do this straight away to save a lot of labor because you will probably end up doing this down the road anyway.
The fishing storage items range from fishing rod storage, tackle boxes, bags wallets and bait buckets lids.
Rod rack (fishing pole rack)
The fishing rod rack is designed to occupy minimum space on the floor and it is quite easy to assemble; you will not need any tools. It is normally made of strong quality light-weight aluminum and it can carry a rod collection of up to 24 fishing rods.
It can be used to organize and protect any type of fishing rod. The fishing poles are normally mounted on the wall.
This fishing rod storage equipment also comes with sufficient spacing so that the poles don't lie on top of each other while you are storing them in the same area.
The 12 rod rack is ideal for smaller diameter poles like freshwater bass rods.
The rod rack can be used on boats, shed, garage or even bedroom to keep your fishing rod collection safe and well organized.
Apart from fishing rod racks, you can also use fishing rod tubes and cases, fishing rod holders and fishing reel cases.
The Tackle Bag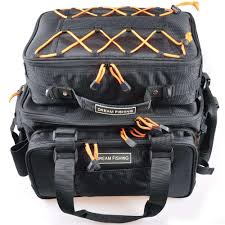 This is a special bag used to carry fishing equipment. After fishing, you should hang it on the wall of the tackle room for safe keeping.
A high-quality tackle bag should come with plenty of pockets on the outside in order to store leaders and lines as well as four tackle trays on the inside.
Some tackle bags also feature a removable padded shoulder strap to make the job of carrying it easier. Other bags even come with a section for carrying your lunch; it is normally on the top of the bag.
Conclusion
Whether you are a beginner or an experienced fisherman, it is important for any angler to have a tackle room to protect the gear from damage or also for safekeeping during the off-season. The room for fishing gear will help you keep the smell of fish away from your living room. Not only is the tackle room professional but it can also be artistic for the true lovers of fishing.